1

Upload Photo

2

Confirm Design

3

Customization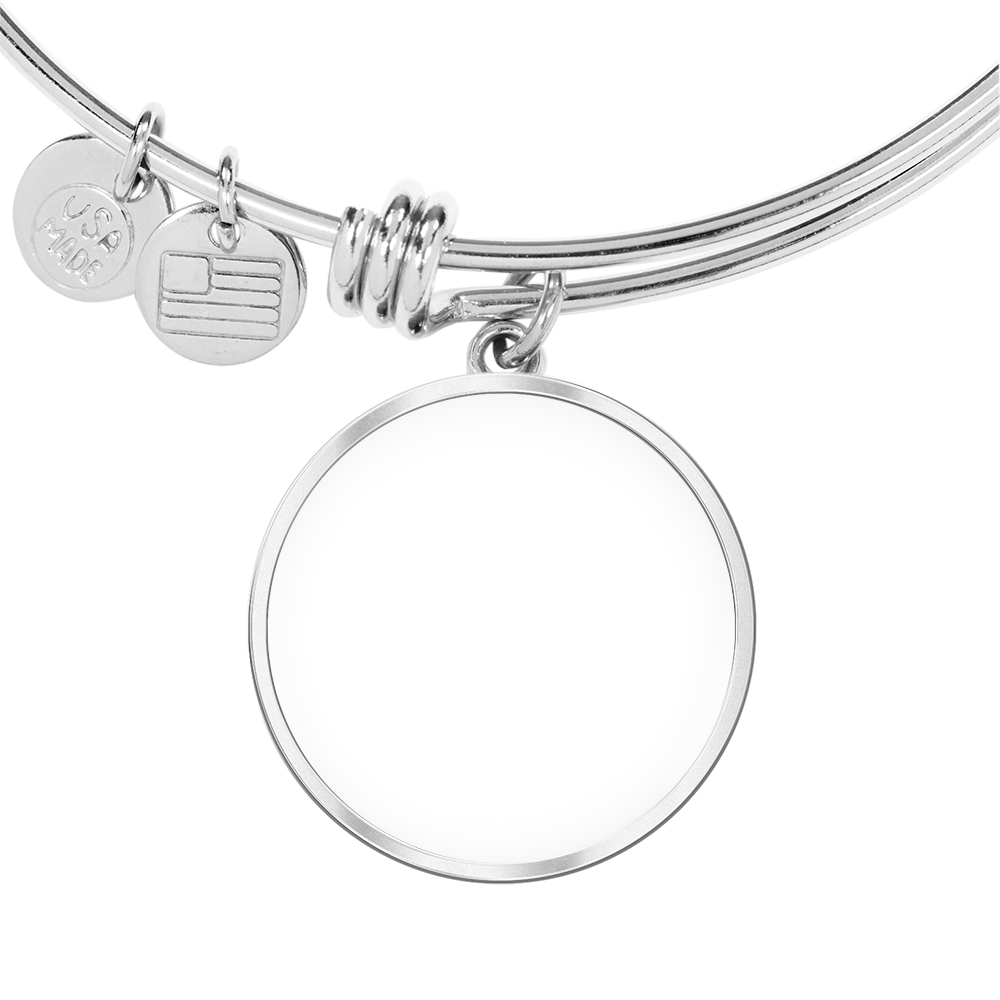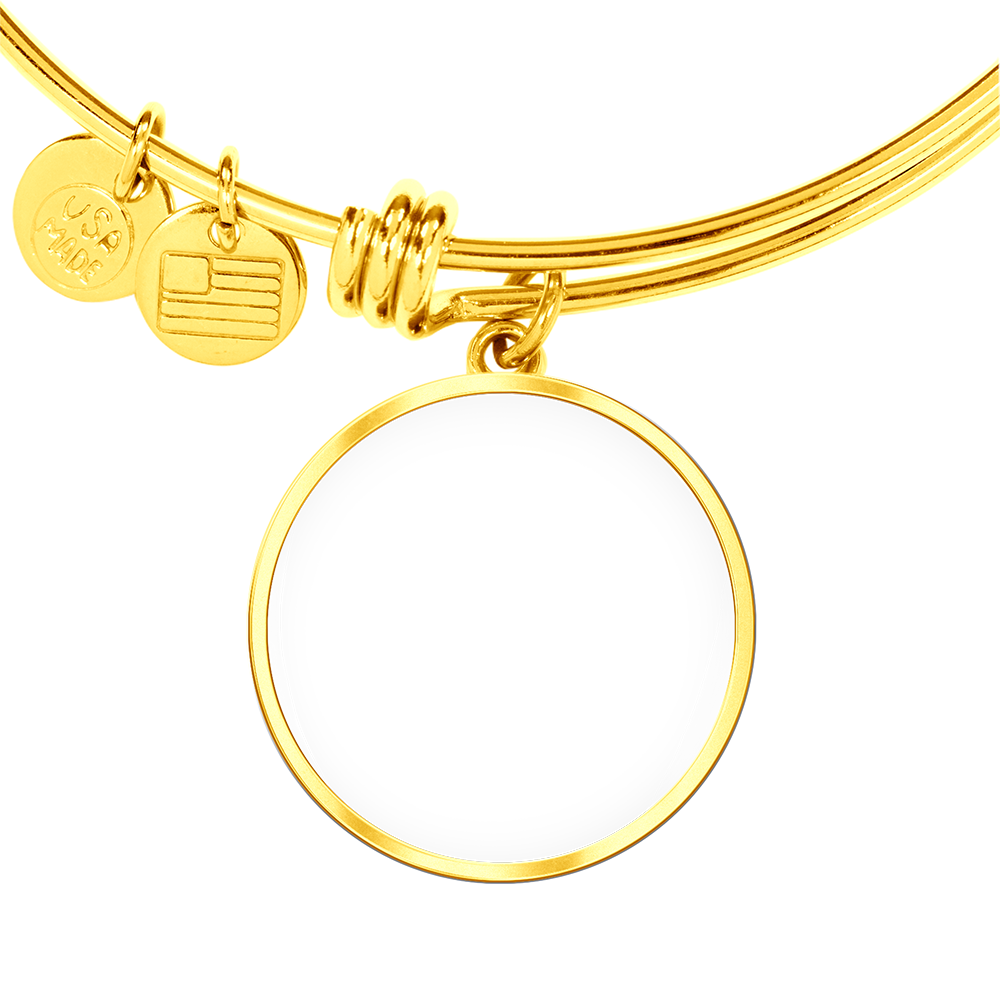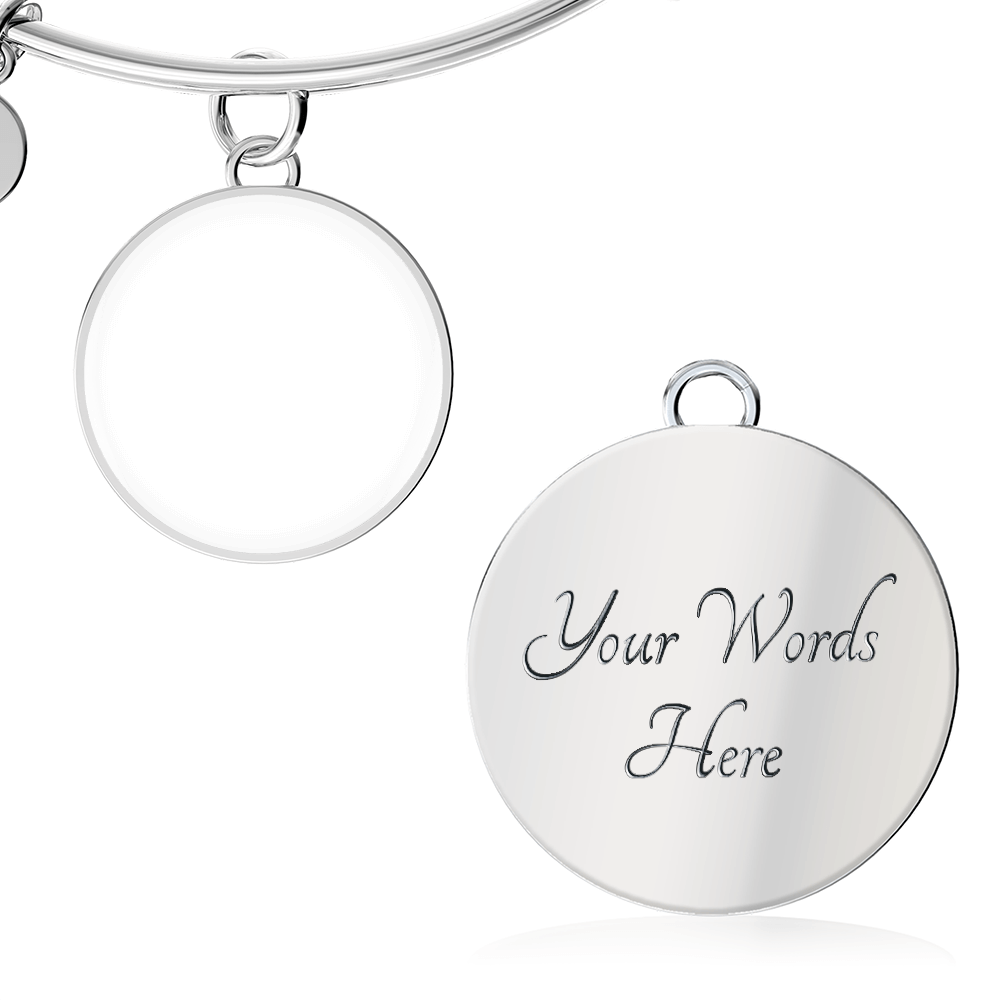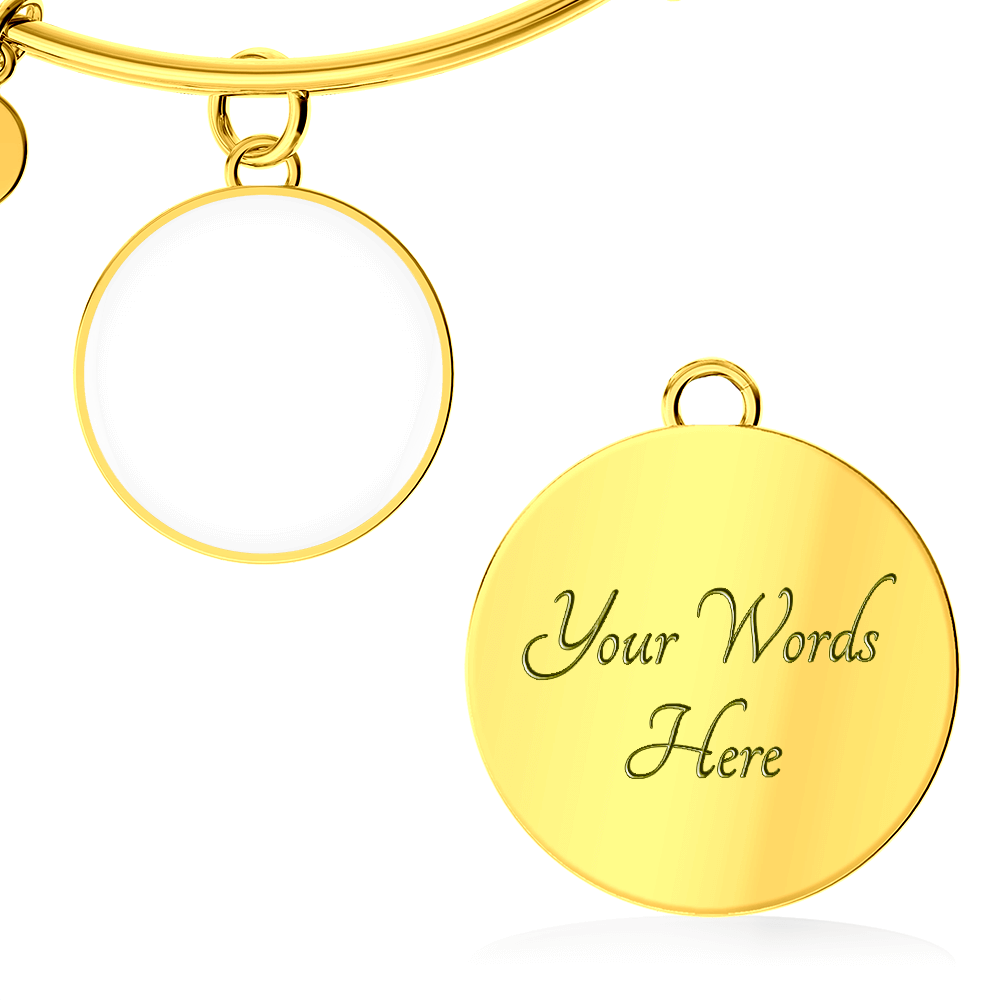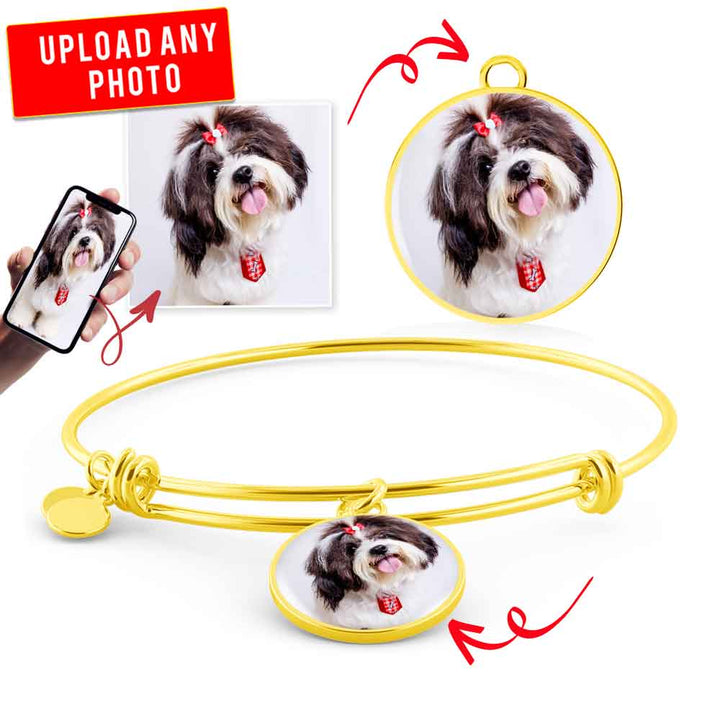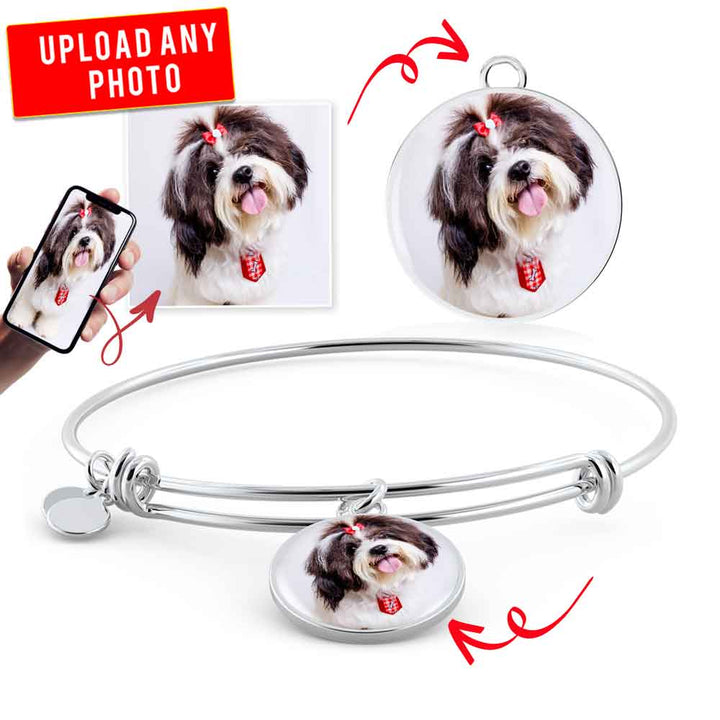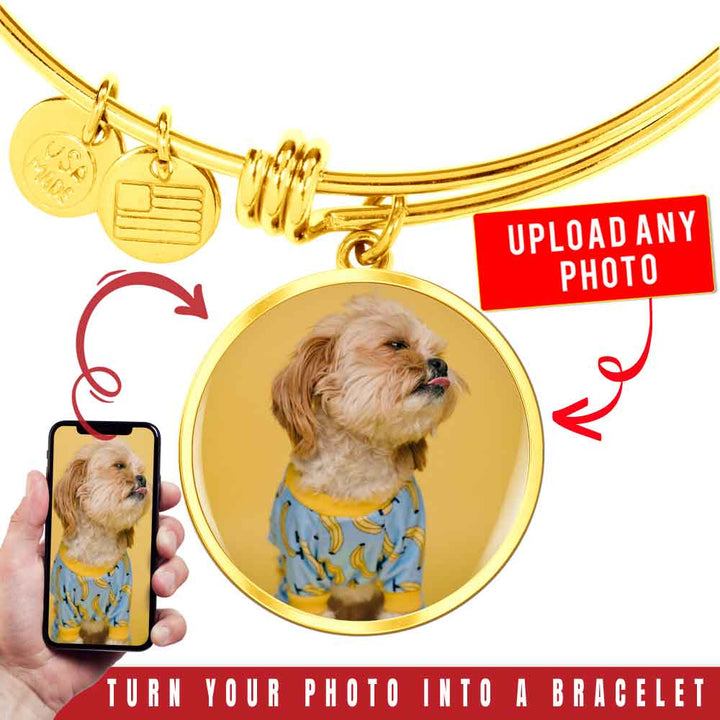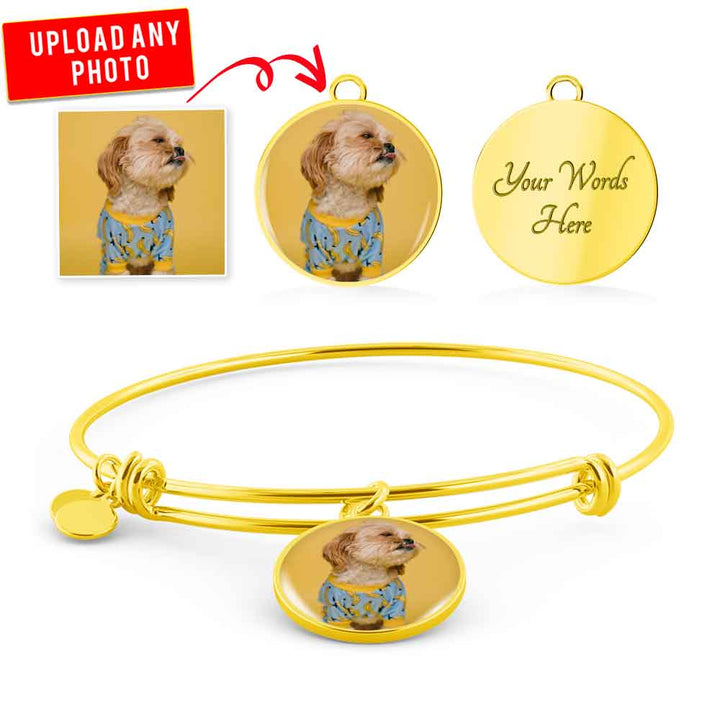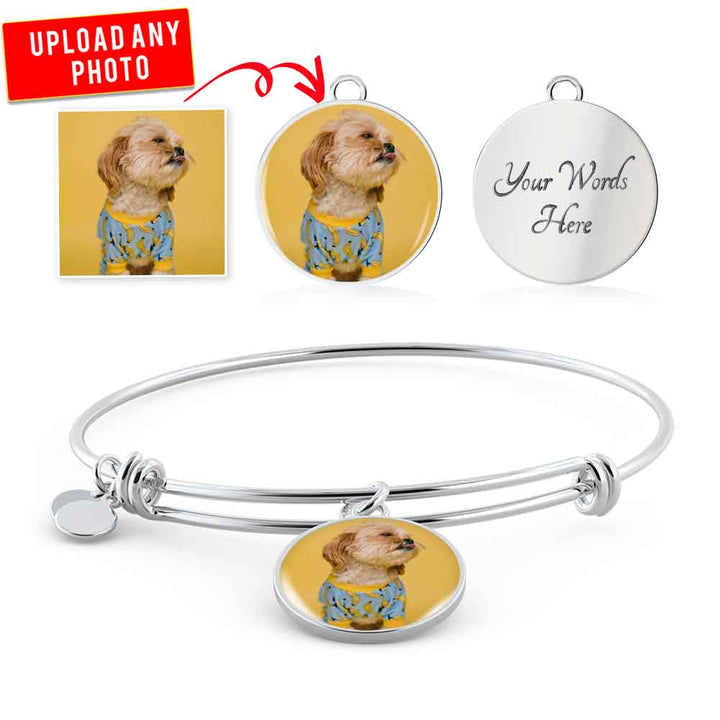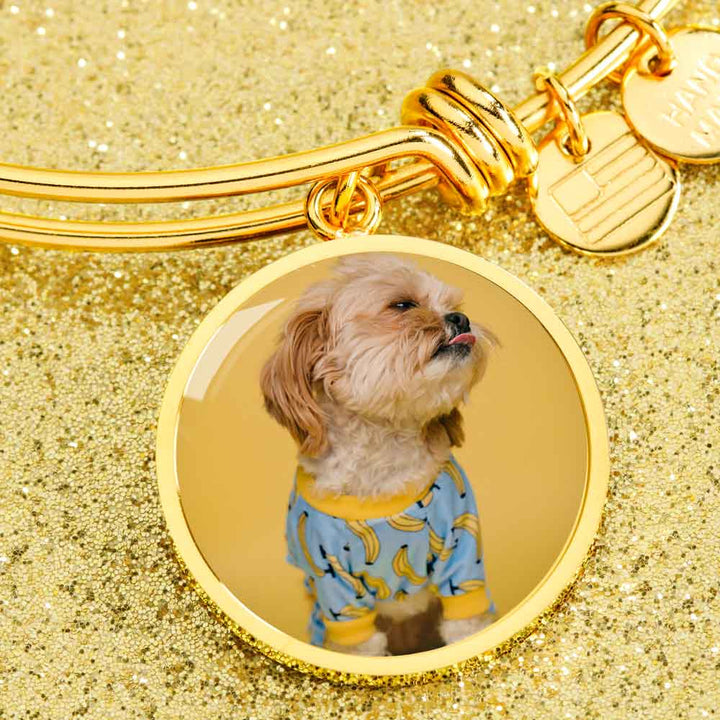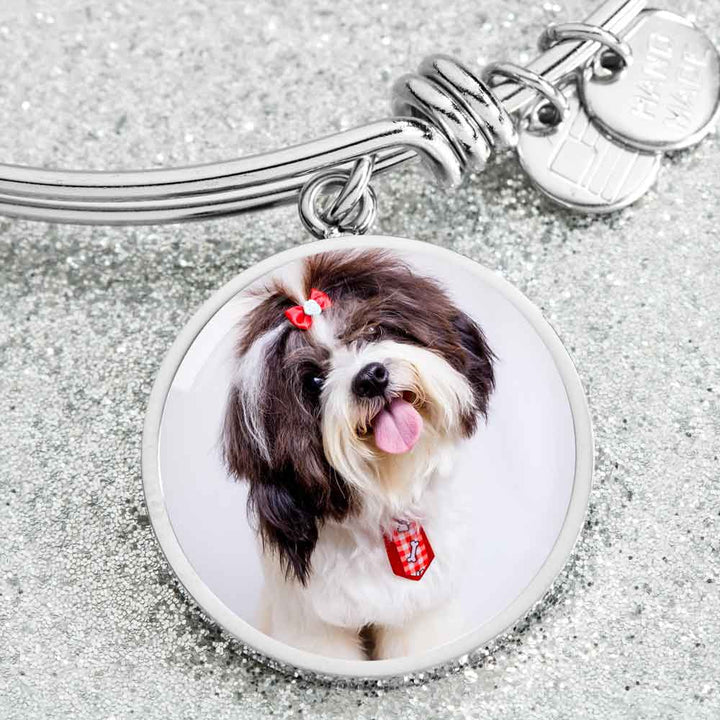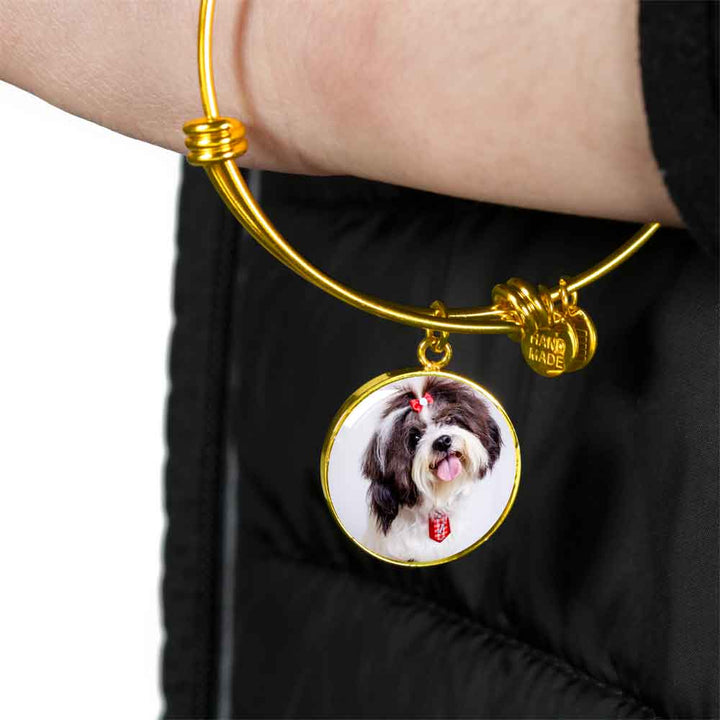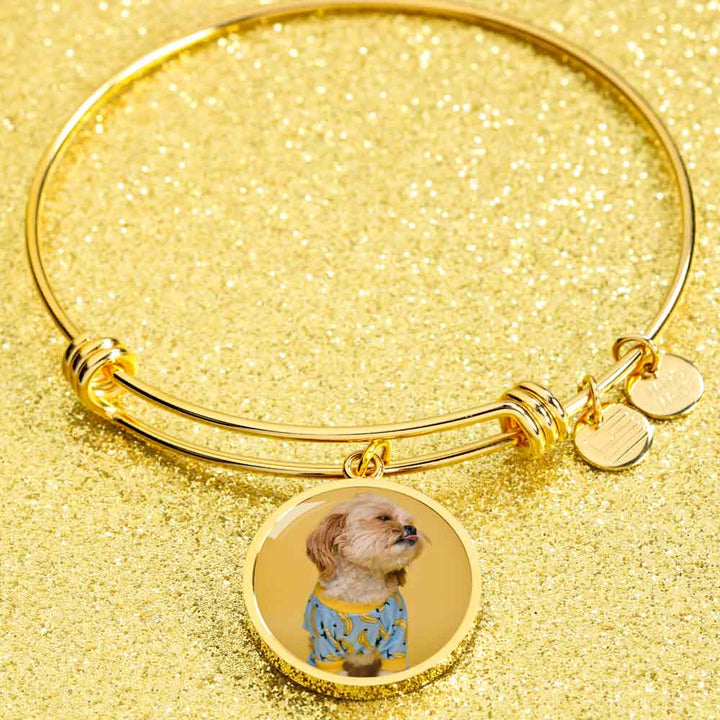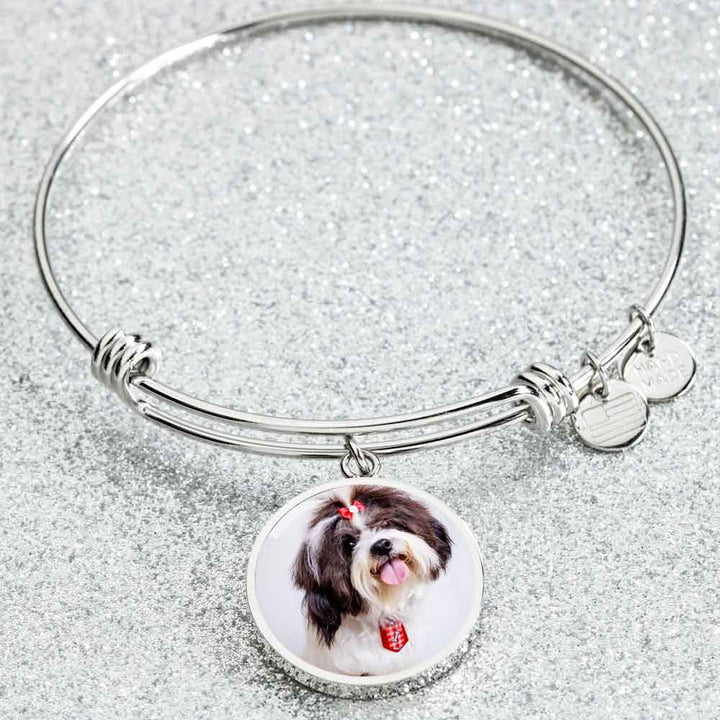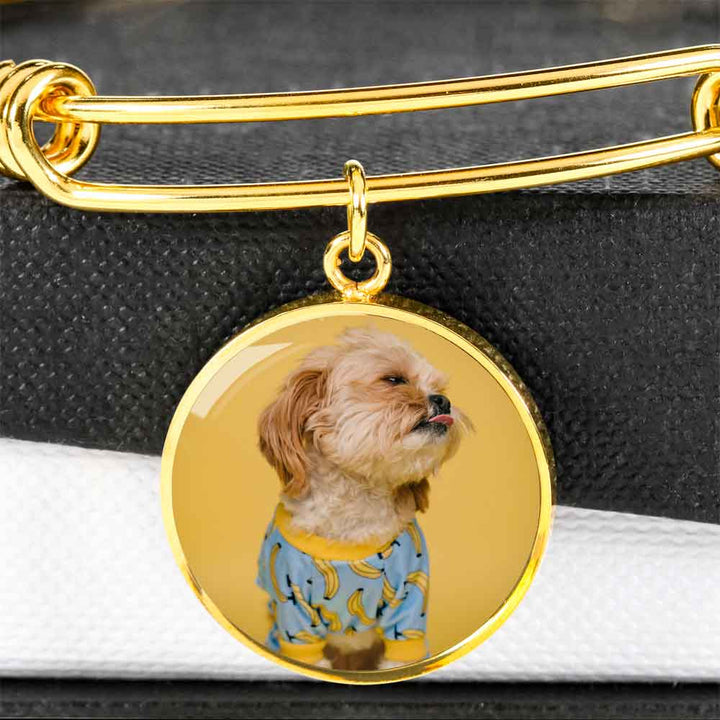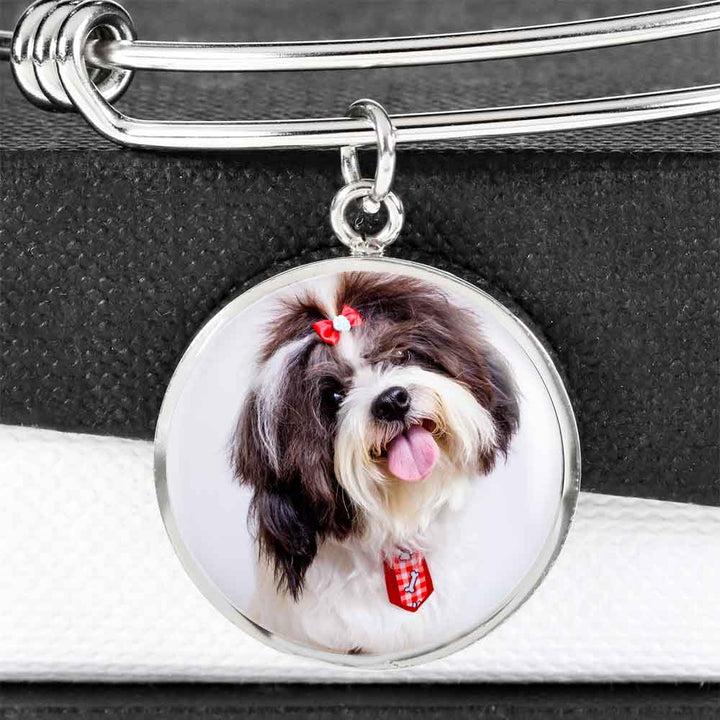 Drag or pinch with fingers to adjust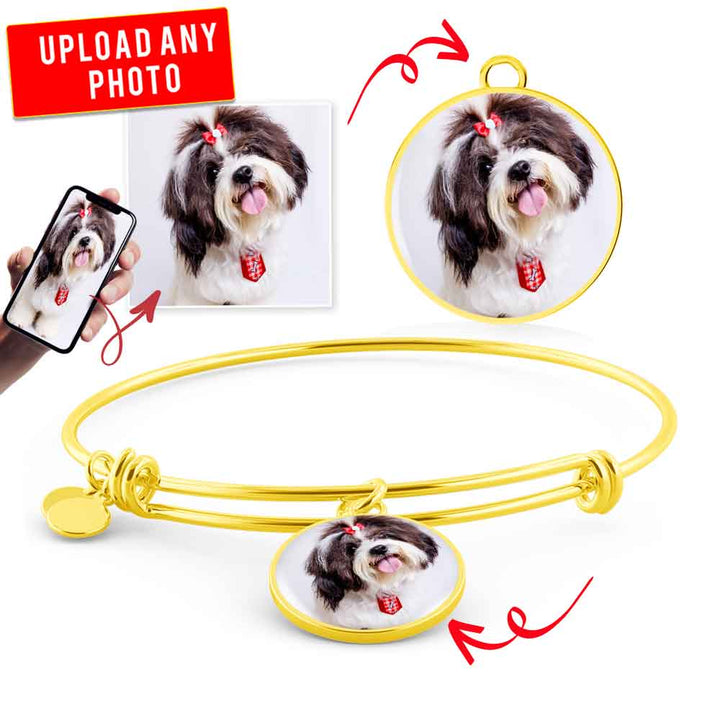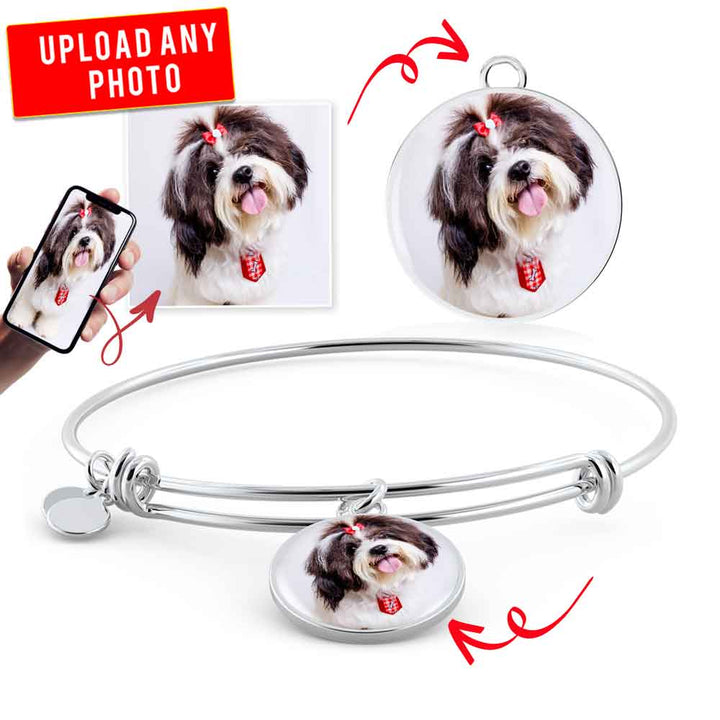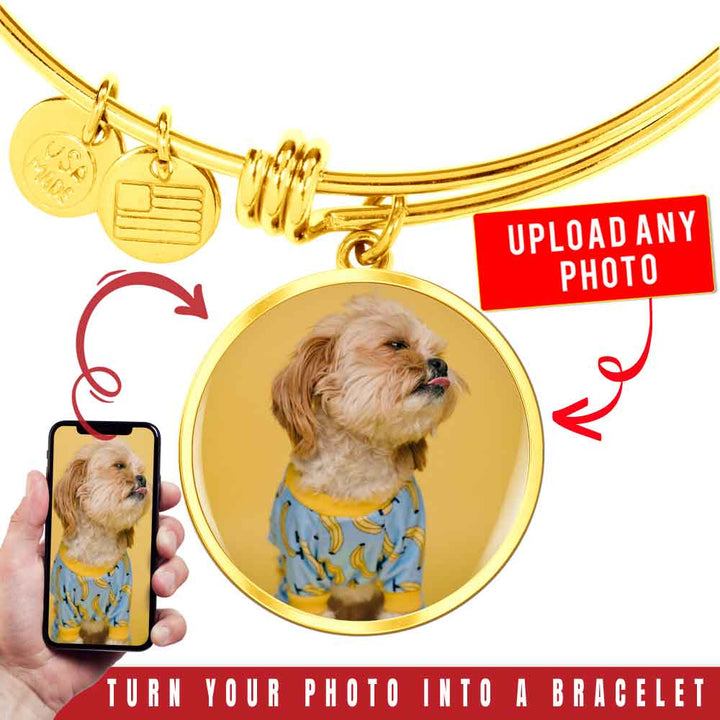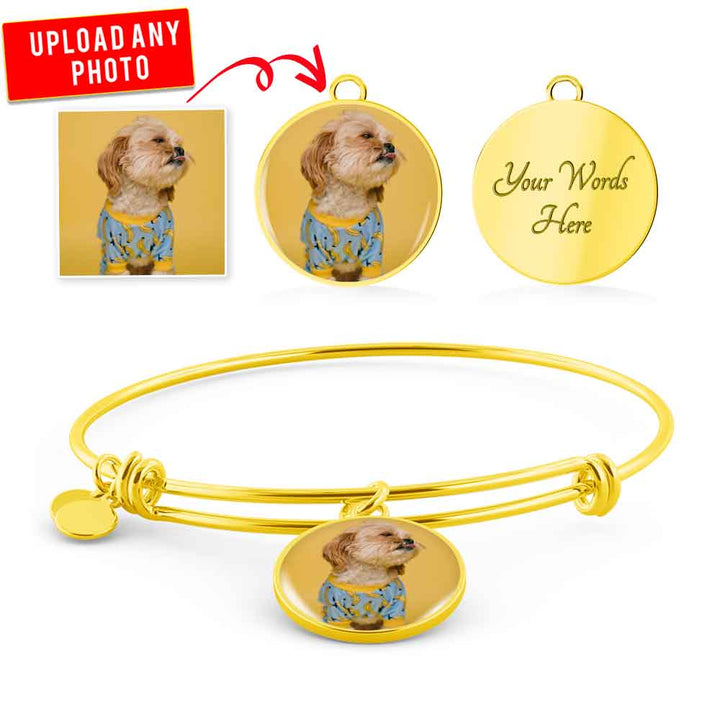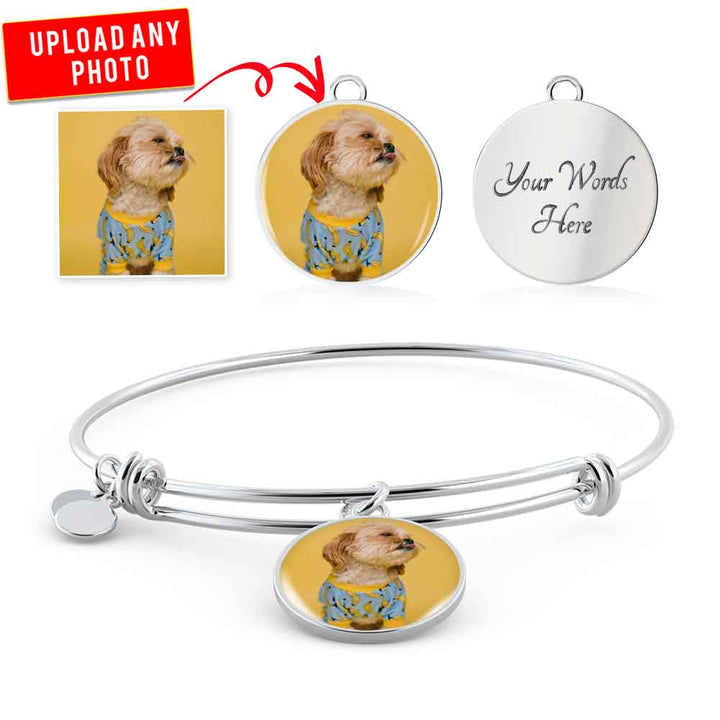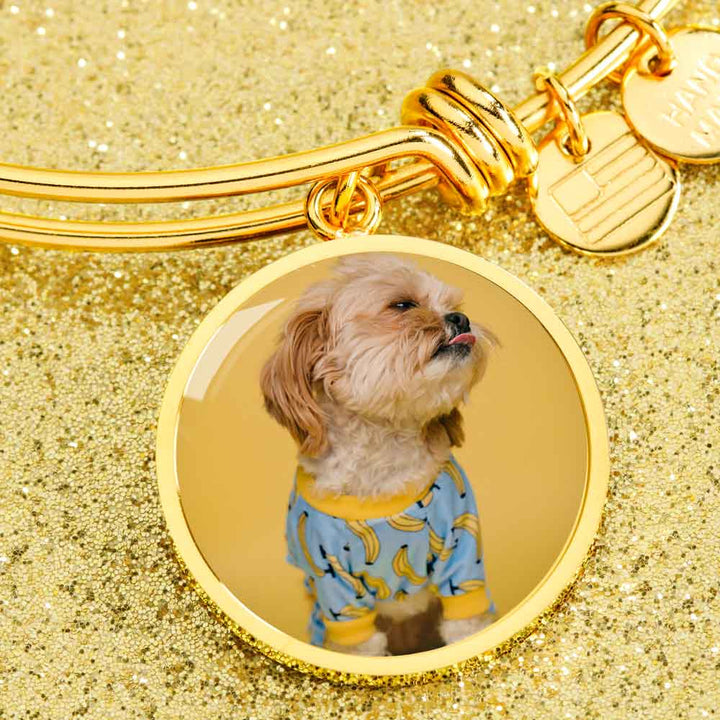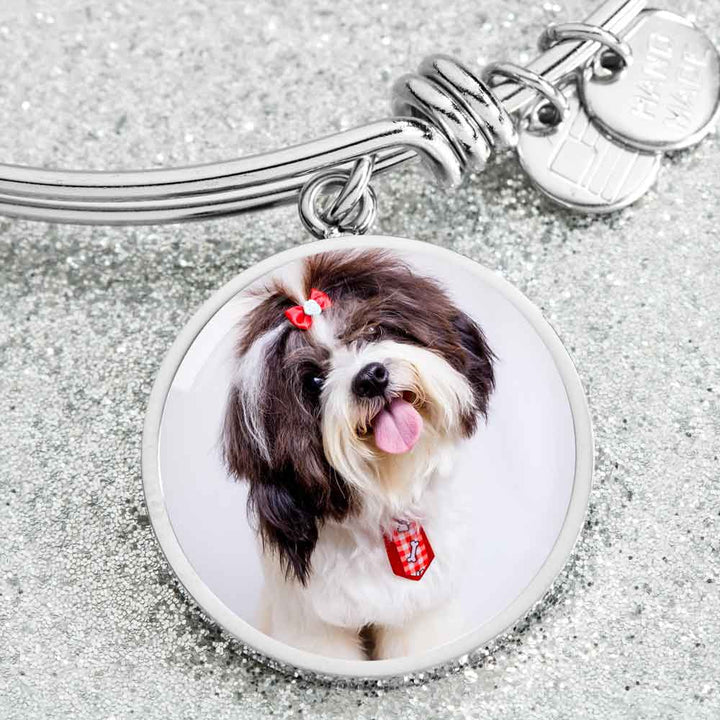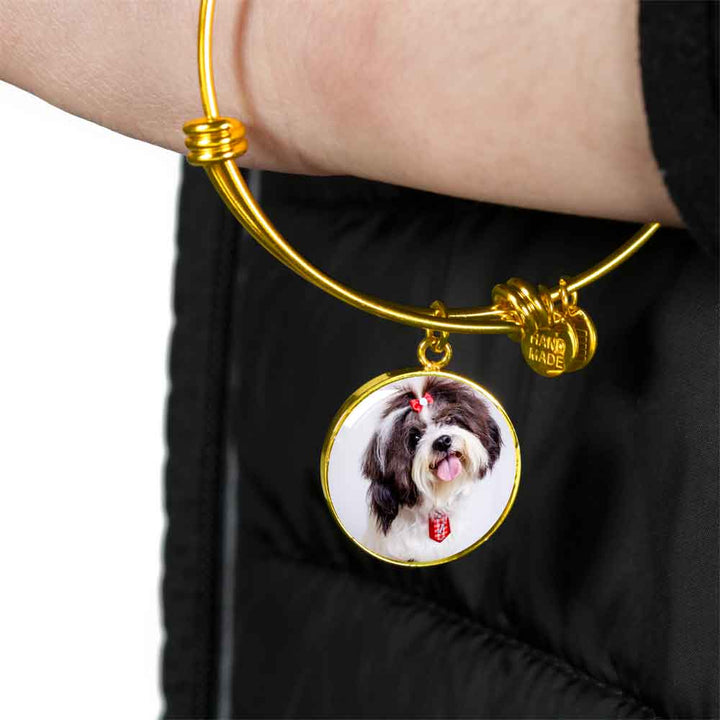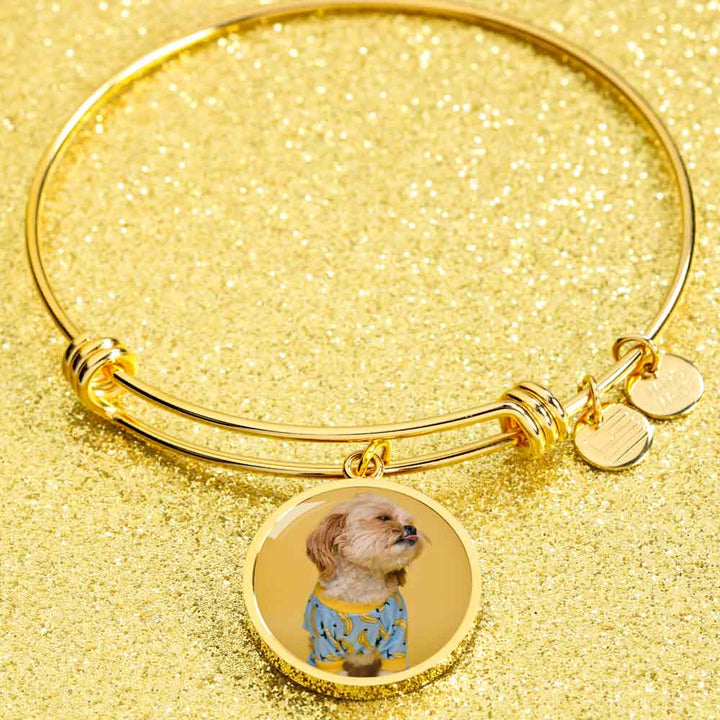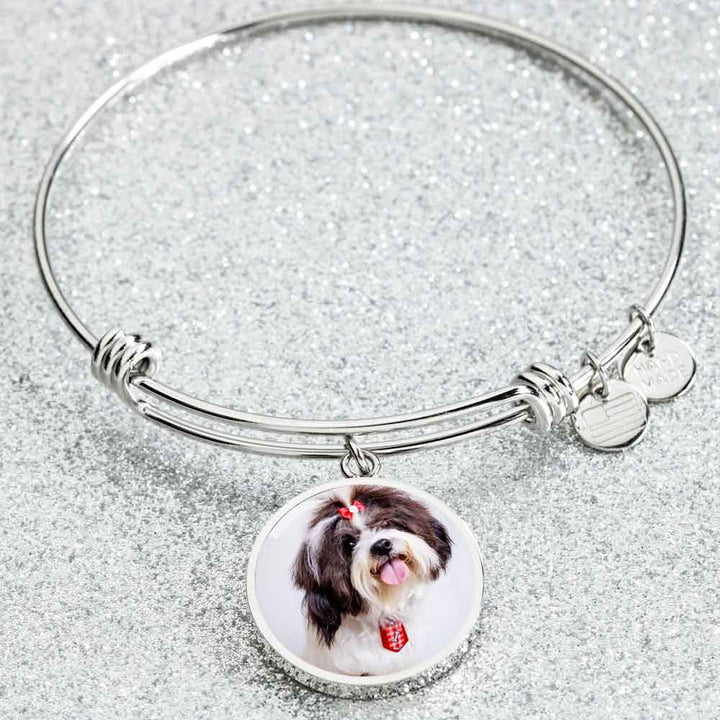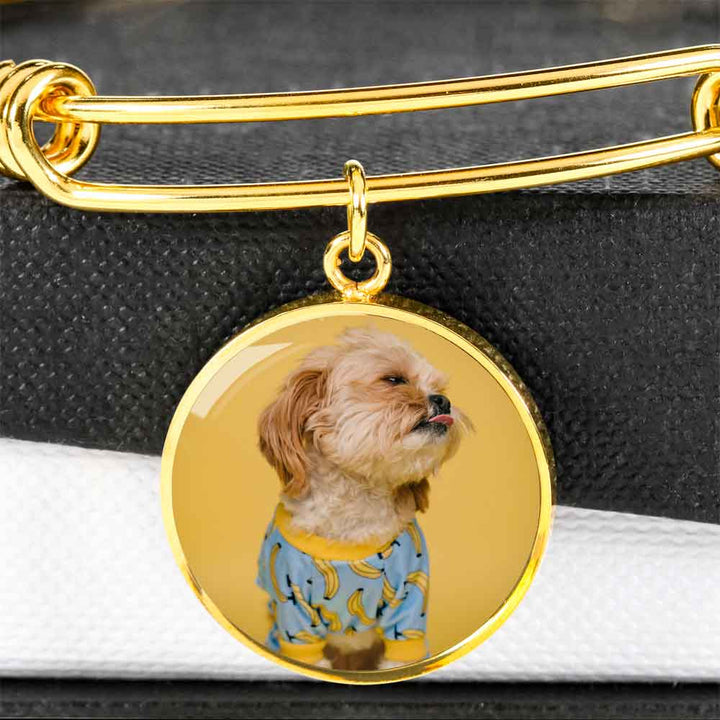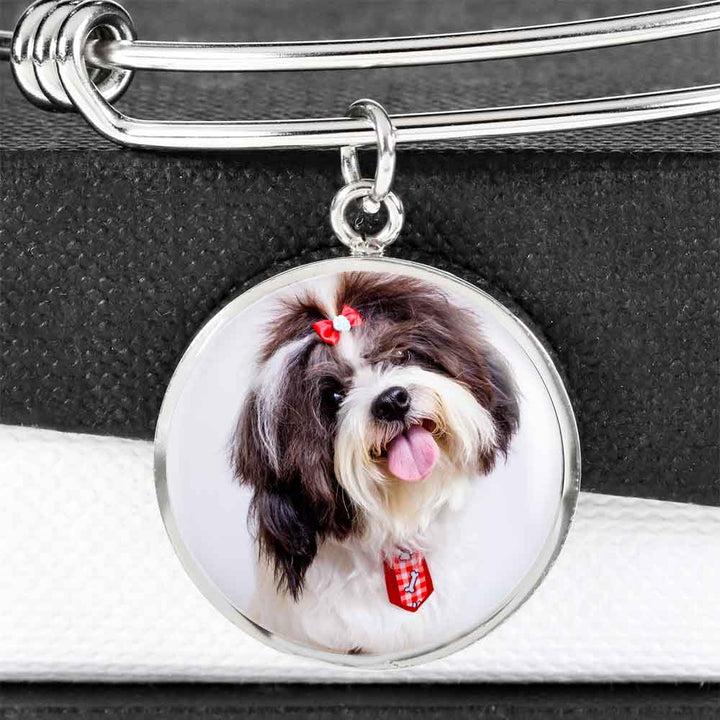 Personalized Custom Photo Shih Tzu Circle Bangle Bracelet is a Perfect Gift for that Shih Tzu Lover, or Pet Lover in Your Life or As a Great Keepsake, or Pet Memorial Gift.

Our Custom Pet Photo Bracelets are a Best Seller and sure to Remind you of Favorite Pet or Even One You Lost.  Carry them with you wherever you go, so they are Always there with You!

➜ Turn Your Favorite Shih Tzu Photo, Pet Photo or Any Photo into an Amazing Bangle Bracelet! 
What a Fun Great Gift for You, Family Member or Friend!  😍
===============PRODUCT INFORMATION=============
➤ This jewelry is made of high quality surgical steel with a shatterproof liquid glass coating.  We Also Offer the 18k gold finish option, as an Upgrade!

➤ Circle Pendant: 0.9" x 0.9" (23.5mm x 23.5mm)
➤ Luxury Bangle: 7-9" (18-22.75cm) adjustable

➜➜ Special Engraving Options Available:  (For an Additional Upgrade!)
 Engrave onto the back of the pendant your pets name, a special date,  or anything else you want to remember and keep close to their heart. Each personalized piece offers exceptional craftsmanship that is fit to be an instant classic in your family. 

➤➤ A Special Engraving Price Offer, Will Be Offered Once You Add the Style of Bracelet you Want (Stainless or 18K Gold Finish) to Your Cart!
If Purchasing ENGRAVING OPTION:  You will see Text Boxes to Enter Your Engraved Message for Your Bracelet.  ➜➜ Max Characters is 40 - 2 Lines Available!
========HOW TO ORDER YOUR CUSTOM PET BRACELET =========

➤➤ UPLOAD YOUR PHOTO 
Using the Upload Your Photo Blue Button, Upload Your Favorite Shih Tzu or Pet Photo, and you will be given directions on How to Crop and Set Your Photo for your Bracelet. Once Your Happy with the Way it looks, You can Hit the Confirm Design Button.  Thats it!  We'll take care of the rest! 😍
➜➜ Please Keep in Mind, the Better and Higher the Photo Resolution on the Picture, the better the finished product will be! 300 dpi, is best!
*Have an Issue with your Photo or Need some Help Cropping it?*
Please SUBMIT YOUR PHOTO HERE to Be Used!

PROOF by Request Only! - If you want to See A Mockup of What your Photo Will Look Like in the Bracelet Product, or any Specific Placement, etc, Please let us know in the Message Section of the Photo Upload Form, and We would be happy to send that over prior to sending it to Production, to Get Your Approval! ;)

===============SHIPPING TIMEFRAMES=============
☑ Free USA Shipping (for a Limited Time) 😍
☑ Free Gift Box Included.  (A $5 Value Free) 😍
All Bracelet Orders are Usually Shipped within 4-8 Business Days.  
Shipping takes approximated 5-10 Business Days. 
➜➜ Engraving Orders, Please add a few Extra Days!  
Most Orders are Received within 7-14 Business Days, or Sooner.

===========================================
Any Questions?  Please feel free to Reach Out to us Prior to Ordering, using our Contact US Page Here!
➤ Personalized Designs or Requests:
Need a Personalized Design for the Bracelet?
Please Reach Out to us to Discuss.
===========================================
#petphotojewelry  #shihtzubracelet  #petmemorial  #shihtzujewelry    
Unique, one-of-a-kind gift

NOT SOLD in stores

USA: 2-8 Business Days
Hurry! We Sell Out Frequently
Description
Surprise someone you love with this unique and elegant jewelry item 🎁.
We say "UNIQUE" because each piece is different when you provide your photo.
This hand-crafted piece will never fade and is built to last!
Specifics
Made in Florida and Amsterdam
316 Steel or 18k Gold Finish
Adjustable Necklace Chain Measures 18"-22"
Water-Resistant
Delivery
Each piece is 100% custom hand-made to order in only 3-5 business days!
Hurry! We Sell Out Frequently
Unique, one-of-a-kind gift

NOT SOLD in stores

USA: 2-8 Business Days
Each item is handcrafted and assembled with love just for you and your loved one. Due to this, please allow 2 - 5 business days for your order to ship.
Once shipped, you can expect delivery within:
USA: 2 - 5 Business Days w/ Standard (1 - 3 Business Days w/ Expedited)
Canada: 5 - 10 Business Days
UK & EU: 3 - 7 Business Days
Australia & New Zealand: 8 - 20 Business Days
Rest of the World: 5 - 10 Business Days
Personalized Custom Photo Shih Tzu Circle Bangle Bracelet is a Perfect Gift for that Shih Tzu Lover, or Pet Lover in Your Life or As a Great Keepsake, or Pet Memorial Gift.

Our Custom Pet Photo Bracelets are a Best Seller and sure to Remind you of Favorite Pet or Even One You Lost.  Carry them with you wherever you go, so they are Always there with You!


➜ Turn Your Favorite Shih Tzu Photo, Pet Photo or Any Photo into an Amazing Bangle Bracelet! 

What a Fun Great Gift for You, Family Member or Friend!  😍

===============PRODUCT INFORMATION=============
➤ This jewelry is made of high quality surgical steel with a shatterproof liquid glass coating.  We Also Offer the 18k gold finish option, as an Upgrade!

➤ Circle Pendant: 0.9" x 0.9" (23.5mm x 23.5mm)
➤ Luxury Bangle: 7-9" (18-22.75cm) adjustable


➜➜ Special Engraving Options Available:  (For an Additional Upgrade!)
 Engrave onto the back of the pendant your pets name, a special date,  or anything else you want to remember and keep close to their heart. Each personalized piece offers exceptional craftsmanship that is fit to be an instant classic in your family. 

➤➤ A Special Engraving Price Offer, Will Be Offered Once You Add the Style of Bracelet you Want (Stainless or 18K Gold Finish) to Your Cart!

If Purchasing ENGRAVING OPTION:  You will see Text Boxes to Enter Your Engraved Message for Your Bracelet.  ➜➜ Max Characters is 40 - 2 Lines Available!

========HOW TO ORDER YOUR CUSTOM PET BRACELET =========

➤➤ UPLOAD YOUR PHOTO 
Using the Upload Your Photo Blue Button, Upload Your Favorite Shih Tzu or Pet Photo, and you will be given directions on How to Crop and Set Your Photo for your Bracelet. Once Your Happy with the Way it looks, You can Hit the Confirm Design Button.  Thats it!  We'll take care of the rest! 😍

➜➜ Please Keep in Mind, the Better and Higher the Photo Resolution on the Picture, the better the finished product will be! 300 dpi, is best!

*Have an Issue with your Photo or Need some Help Cropping it?*
Please SUBMIT YOUR PHOTO HERE to Be Used!


PROOF by Request Only! - If you want to See A Mockup of What your Photo Will Look Like in the Bracelet Product, or any Specific Placement, etc, Please let us know in the Message Section of the Photo Upload Form, and We would be happy to send that over prior to sending it to Production, to Get Your Approval! ;)

===============SHIPPING TIMEFRAMES=============
☑ Free USA Shipping (for a Limited Time) 😍
☑ Free Gift Box Included.  (A $5 Value Free) 😍
All Bracelet Orders are Usually Shipped within 4-8 Business Days.  
Shipping takes approximated 5-10 Business Days. 
➜➜ Engraving Orders, Please add a few Extra Days!  
Most Orders are Received within 7-14 Business Days, or Sooner.

===========================================
Any Questions?  Please feel free to Reach Out to us Prior to Ordering, using our Contact US Page Here!

➤ Personalized Designs or Requests:
Need a Personalized Design for the Bracelet?
Please Reach Out to us to Discuss.
===========================================

#petphotojewelry  #shihtzubracelet  #petmemorial  #shihtzujewelry    

Each item is handcrafted and assembled with love just for you and your loved one. Due to this, please allow 2 - 5 business days for your order to ship.

Once shipped, you can expect delivery within:

USA: 2 - 5 Business Days w/ Standard (1 - 3 Business Days w/ Expedited)

Canada: 5 - 10 Business Days

UK & EU: 3 - 7 Business Days

Australia & New Zealand: 8 - 20 Business Days

Rest of the World: 5 - 10 Business Days
See what people are saying
about us